---
Decisions, decisions...
---
Woohoo, looks like you might help me with some advice. I'm going to Sunfest in downtown West Palm Beach, mainly to see Mr. John Mayer, but other people I'm interested in seeing include Sixpence None the Richer, Sheryl Crow, Nick Carter, and that Uncle Kracker. Anyway, I need help deciding what kind of tickets I should get for the event, which lasts five days...
---
Here are the choices:
For $12 I get...
Admission to Sunfest for one day
For the $80 membership, I get...
(1) Five day Festival Pass, (1) Membership Card, (1) Membership Lapel Pin, (1) Coupon for Merchandise Discount, (1) Invitation to the Member Party (for details, go here)
---
The main thing with the membership that I'm interested in is the reserved seating, which puts me closer to the stage (a five day pass is nice too, though I'd probably go only three days).
Here's a picture of the view from the skybox area (stage is slightly above the center of the picture):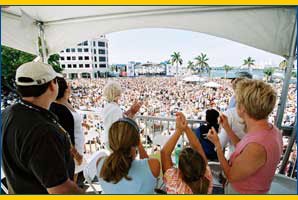 Now, as you can see from the map below, the skyboxes are pretty far from the Washington Mutual Stage (the reserved seating is also on the map):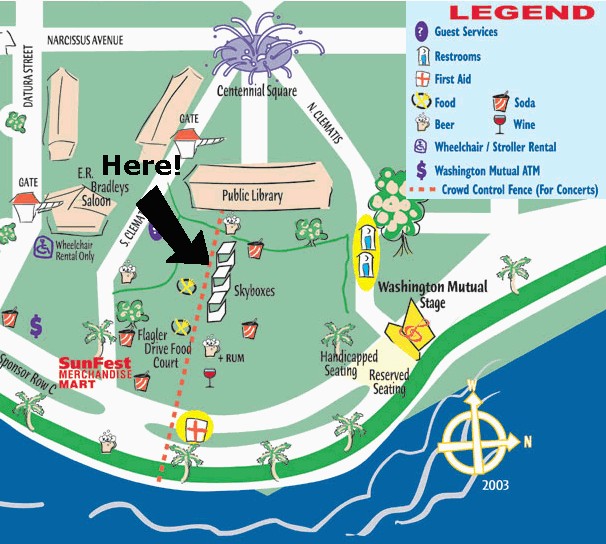 Using the location and view from the skybox pictures, I think I could probably get close to the outskirts of the reserved seating and get a pretty nice view. However, there are loads of people, so the only guaranteed good view would be in the reserved seating area. So, help an ol' pal out and help me decide... Of course, if the membership passes are sold out, this is all for naught, but thanks anyway...
---